OUR FOUNDER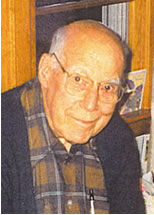 Dr. George F. Dow
July 22, 1905 - June 9, 2006
On June 9, 2006 we lost our dear friend and Town Historian George Dow. Though George is no longer with us, the information he assembled to document the history of Nobleboro will live on forever. If you would like to read more about the long and productive life of George, click here.
GOALS
Update the Centerís displays of artifacts and Nobleboro History
Increase our depth of knowledge about Nobleboroís history so we can share with individuals and groups
Grow the Nobleboro Historical Society membership to include younger generations of old Nobleboro families and those of us "from away" in Nobleboro
Feel free to CONTACT US with any questions or comments.
BOARD OF DIRECTORS
President: Mary Sheldon
Vice President: (Vacant)
Recording Secretary: (Vacant)
Corresponding Secretary: Mitchell Wellman
Treasurer: Dewey Meteer
Genealogist: (Vacant)
Curator: Mary Sheldon

COMMITTEE CHAIRS
AppleFest: Mary Sheldon
Building: Henry Simmons
Finance: Dewey Meteer
Fish Ladder: David Brydges
Membership: Laurie McBurnie
Program: Mary Sheldon
Resource: (Vacant)
Scholarship & Education: Mary Sheldon
Website: Mitchell Wellman

TRUSTEES AT LARGE
Serve until 12/31/23
Alice Scott
Henry Simmons
Pam Edwards

TRUSTEE APPOINTED BY BOARD OF SELECTMEN
Jon Chadwick

APPOINTMENT BY TRUSTEES FOR ONE-YEAR TERM
Auditing consultant: Cheryl Crummett, Sunnyside Accounting
PURPOSE
To collect and preserve historical memorabilia and important records related to the Town of Nobleboro
To encourage and promote interest in Nobleboro history among schoolchildren and the general public through exhibits, lectures and other special events
To maintain and operate the old Hawthorne schoolhouse as an historical reference center for the public